Patrice Rool created Roowin in 1998 and became CEO. Very creative in chemistry, he is the inventor of Roowin's patents.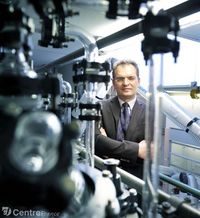 Roowin, a company specialized in high added value fine chemistry, can support you in your projects of creation,             implementation, optimization and scale-up of efficient synthesis-routes and analysis methods.
Roowin's team is at your service for any chemistry research projects you want to entrust to us. In November 2009,           Roowin employed 35 chemists. Our management team with a PhD/Grande Ecole rate of 100% is looking forward to     all challenges you might want to share with  us.
To learn more about Roowin: http://www.roowin.com/