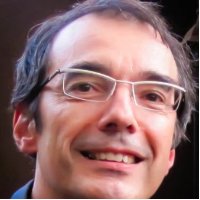 Dr Patrick Merel
Founder & CEO
Portable Genomics Inc. started its operations in San Diego in Summer 2013,
following a succesful seed funding round with involved investors.
Portable Genomics' founder, Dr. Patrick Merel, is a molecular diagnostic expert
with a long time expertise in high throughput and automation. Patrick has spent
most of his career developing automated and robotics solutions for medical
diagnostic, including genetic testing, DNA typing, sequence-based and realtime
PCR assays. He has started and directed the Molecular Diagnostic laboratory
of Bordeaux Blood Bank Center, moved to Bordeaux University Hospital to
automate the Infectious Disease Testing Laboratory and also started HIV testing
facilities in Vietnam. Patrick has also gained extensive experience in business
development from working with the major IVD players, in Asia, Europe and the
US.
Portable Genomics' main goal is to leverage the growing need for genomic
information to be translated into actionable healthcare and lifestyle adjustments.
In that sense, Portable Genomics, pioneer in the mobile genomics space with
a consumer-based approach for the visualization and use of genome data and
information, answers the need for user-friendly applications to better understand
and use genome information in multiple fields, from personalized and preventive
medicine, to unexplored genome-based serious gaming Apps.
Portable Genomics, and its growing team, has joined the Janssen Labs this
month and is very happy to have been selected among the high potential
emerging healthcare companies there.
Portable Genomics' current focus is to serve the pharma industry, through
disease specific projects, and reach out to early adopters in the field of genomics
and personalized medicine.